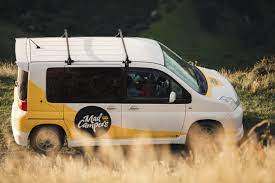 You'll be able to catch some of our culture and adventure tourism as you make your way from the pristine white sand beaches in the north down to the rugged peaks of the south. You can make your own mind up but we think you'll find New Zealand has it all.
Experience all New Zealand has to offer in one of our certified self contained Mad Campers. We've got the most innovative campers on the market allowing you to go wherever you want in comfort… and at whatever pace you desire.
So come aboard with us, we're excited about what's down the road!