Where are you Eating tonight?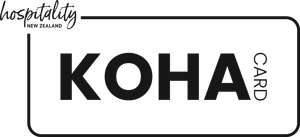 Find a Restaurant, Cafe, Takeaway etc in your area where you can use your KOHA Card
33 York Terrace, Riverhead 0820
The Riverhead has been a house of refreshment and conviviality for around 160 years. In that time it ...
48 Camp Street, Queenstown, Central 9300
Queenstown's oldest & longest serving established bar, and home to the Famous $10 All Day Breakfast
Drink: Bar, Gastro Pub, Cocktail Bar, Late night
5 Park Road, Miramar, Wellington 6022
Bringing the movies back to Miramar! With the added attraction of our cafe/restaurant CoCo for breakfast, lunch and ...
Drink: Bar, Cocktail Bar, Cafe
Play: Activity, Family, Couples, Indoor, Entertainment
6 Sapper Moore-Jones Place, Hamilton Central, Hamilton 3204
Madam Woo takes inspiration from traditional Malaysian hawker food and serves up big, fresh flavours in a vibrant, ...
25 Victoria Street, Wellington Central, Wellington 6011
A bit of Irish meets a bit of Kiwi and you have The Green Man Pub: Wellington's busies ...
Eat: Asian, European, Pizza, Burgers, International
Looking for a specific venue?