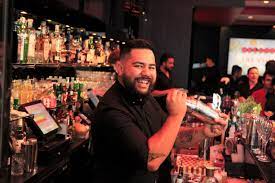 A retro cocktail bar bringing the bright lights of Vegas to Ponsonby.
At Win-Win, we're all about cocktails. Choose from our concise yet regularly evolving cocktail menu with new specials each week or let our expert bartenders magic up whatever your tastebuds desire. We also have several cocktails on tap including New Zealand's first Nitro Expresso Martini.
Pair with jelly bites made by jellyologist Jessica Mentis, savoury or sweet popcorn or more substantial snacks from Ponsonby's Il Buco. Relax and let loose, with a mix of funk, boogie and retro disco and pop providing the perfect soundtrack for a good time.